Patricia has helped countless Christians overcome their life struggles. Her clients have sought help for a wide range of personal issues.
Please call Patricia today for a free initial consultation: (805) 241-6700
Is your faith important to you? Does your faith play a central role in your life? Are your thoughts, feelings, and behaviors guided by Biblical standards?
If you answered yes to any of these questions, it may be important for you to seek counseling from a therapist who honors your Christian belief system.
Patricia uses her excellent client rapport and clinical expertise to help clients overcome their struggles. Her professional counseling experience includes work in Christian-based settings. She has provided therapy for church staff, missionaries, individuals, couples, and families with a wide range of clinical issues.
Patricia provides Christian counseling and a wide array of resources and referrals to ensure that clients receive realistic results which honor their Christian value system. Christian counseling goals include helping clients gain self-awareness so that they may improve interpersonal relationships and resolve problems and life crisis situations in an effective, time sensitive manner.
Christians seek counseling for a variety of reasons, including:
• Relationship Issues: Couples Counseling – Family Counseling – Parenting Issues
• Addiction Issues – Anger Management – Attention Deficit Disorders – Depression – Faith Crisis Counseling
• Grief – Military/Police/Firefighter – Career – Stress Management Training
In Christian counseling sessions, Patricia uses integrative Biblical and Solution-Focused psychotherapeutic techniques. The major goal of the therapeutic techniques is to provide a safe climate of trust so that the client, through self-exploration, can become aware of obstacles to growth.
The client is guided toward his own internal standards, as well as Biblical standards, instead of the external standards of the world around him. The aim of therapy is to facilitate the growth process, not merely solve problems. The client is helped in achieving greater openness, trust in self, trust in God, and increased aliveness and spontaneity.
Effective Christian Counseling is only a phone call away.
In a positive Christian-focused counseling environment, Patricia applies a professional standard of care and personalized attention to specific client needs. She offers three conditions of client treatment: a compassionate approach with empathic understanding, (i.e., walking in the clients' shoes as they walk in them), unconditional positive regard, (i.e., every human being is worthy of dignity and respect), and congruence (i.e., genuine, authentic, and honest reactions from the therapist).
Call Patricia today at 805-241-6700 to begin the process of healing, growth, and transformation. She will provide a brief phone consultation to answer your questions and address your concerns.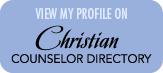 Members of the Christian Counselors Network must be state-licensed mental health professionals, insured, and attest that they are Christian with values in alignment with Focus's and the they counsel from a biblical perspective. Membership in the Network should not be construed as an endorsement by Focus on the Family.
INTERNATIONAL ASSOCIATION CHRISTIAN COACHING INSTITUTE CERTIFICATIONS:
The International Christian Coaching Institute (ICCI) is a premier and innovative faith-based network in the emerging field of Life Coaching that embodies professional and ministerial excellence. It represents a group of Christian Life Coaches dedicated to serving others with compassion and competence and who utilize biblical principles to assist clients in setting individualized goals through a collaborative partnership that addresses the whole person.
CERTIFICATIONS:
Advanced Life Coaching
Spiritual Formation Coaching
Executive & Organizational Coaching
Leadership Coaching
Financial Professional Life Coaching
Relationship Coaching
Stress Management Coaching
Health & Wellness Coaching
Women's Coaching
Parent Coaching
Premarital Counseling
Marital Counseling
Divorce Coaching
Hope Coaching
Grief & Loss Counseling
American Association of Christian Counselors – Board of Mental Health Coaching
Board Certified Mental Health Coach
This course included education on the role and scope of mental health coaching within the local church, ethical guidelines and professional standards in coaching, crisis intervention techniques, and the integration of faith and biblical wisdom in coaching. The training and exams centered on the fundamental theories and skills of Christ-centered mental health coaching. Key elements of the coaching process, including methods of change, listening, effective communication, giving hope, small groups, and counseling theory were included in this training.   Education also focused on the fundamentals of mental and behavioral health disorders, the causes of mental disorders, as well as conventional treatments. Conditions discussed included addiction, anxiety disorders, bipolar disorder, major depressive disorder, eating disorders, and post-traumatic stress disorder.